SAVE THE DATE: CROP HUNGER WALK IS OCTOBER 2, 2016

CROP HUNGER WALK - ending hunger one step at a time. As you take each step in the CROP Hunger Walk, imagine that you're in Kenya, walking to get water that you will have to carry back home in a 5 gallon can balanced on your head. Your family needs this water to drinking, bathing, preparing meals, or watering the garden or livestock. 5 gallons weighs about 42 pounds and you may have to walk miles to get.

Having to spend so much time on getting water keeps you from growing more vegetables, raising more livestock or developing a business. There is only so much time in a day. There is a solution, and you can be part of it. CROP Hunger Walks provide solutions such as a sand dam to help provide water. Micronutrient packets to feed children. Tools and seeds to help keep a family fed and healthy.
CELEBRATE 2015: Williams Lake Church of the Nazarene Walkers and those who sponsored them raised $1,726.00 for local and worldwide hunger relief.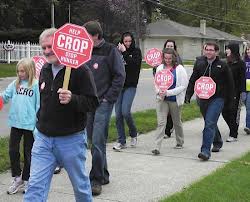 Rhonda Starick

Phone:
248-706-0849